Outgrowing QuickBooks? Sage Intacct is the best solution!
The Hidden Costs of Quickbooks Whitepaper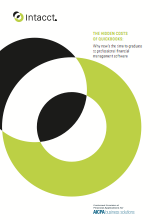 If your business has moved beyond the entry level, your organization may be facing a number of challenges as you hit the limits of QuickBooks functionality. QuickBooks simply wasn't designed to provide professional financial management capabilities to growing organizations with sophisticated, evolving demands that require more and better visibility into financial and operational performance—such as automating key processes, providing anytime, anywhere access, enforcing internal controls, customizing functionality, and integrating with other critical applications.
This whitepaper outlines a framework to help your organization assess the hidden costs of continuing to use QuickBooks along with the financial upside of switching to a professional financial management and accounting system.
Download a copy of this whitepaper by filling out the short form.
Still wondering how Sage Intacct & Altruas can work best for you business needs? Contact us for more information and one of our agents will get back to you as soon as possible.