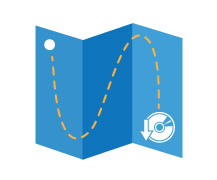 As a business owner, purchasing manager, or finance professional, software selection can seem a bit cloudy. With so many different products, different salespeople, and different needs of your business; where do you begin your journey? We look to clarify your move to your next software, and hope if all ends well, we can shine a light on your move to the cloud.
Roadmap to Software Selection
Remember, the selection process is always about pacing your journey and sticking with standard best practices.
Gather Requirements
Carefully define and document your needs. Get input and gain consensus from key users in finance and related departments across the organization. Identify an opportunity for growth or a cumbersome process that can be automated by talking to all end users before you begin vetting candidates. Related:
Signs Your Company is Outgrowing QuickBooks
Identify top priorities and challenges
No system meets every need for every user. Determine which functionality and requirements are "musts" and rank them so that you can select the system which best fits your finance team's unique needs.
Create an RFI/RFP
With requirements established, now's the time to list your needs, expectations, and parameters on a Request for Proposal (RFP) form that you can send to a short list of vendors. Using the same form for all vendors will allow you to make an apples-to-apples comparison of solutions.
Research your options
Go online to develop a short list, sift through competing offerings, and comb through independent research and reviews. You can consult social networks like Linkedln and Twitter to connect with people that are already using the products you are evaluating.
Demo or trial from short list.
There's no substitute for careful evaluation of the user experience. But also be sure to see how things work at the administrative level as well. Related:
Intacct Product Tour
Focus on product fit
Don't overlook the basic truth: Regardless of deployment model, there's still no substitute for functional excellence. You need a financial system that offers the comprehensive, up-to-date features that modern organizations require. For instance, many companies find that multiple entity consolidation and project-based accounting are as essential as real-time reporting, process customization, automated approvals, and integration with other software products.
Check references, score, and select.
Be sure you carefully screen vendor references. Make certain that vendors provide access to happy and successful customers, but don't overlook online forums like the Salesforce.com AppExchange, where you can access unscreened, unfiltered feedback about vendor performance Thanks to
Capterra
, touted as the 'smart way to find software,' we share with you this simple roadmap that includes the key steps in your journey to new software. This
roadmap to software selection infographic
will make your software selection process even easier.
Planning Your Journey
When you do know your needs, your journey to finding the right software becomes much clearer. By working with a Value-Added Reseller, we can help you to clarify your business needs, learn more about products, and provide comprehensive support throughout your product journey. Read through the following resources, and
contact us to get started
.