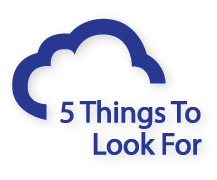 If you are a growing business seeking a new provider of cloud accounting, there are many things to consider.  In addition to the functionality and price, what value-added features should you consider in the selection of cloud accounting software?
1. Security and Reliability
Obviously, with the recent attacks on websites, flaws being exposed across apps, and general issues that could cost your business money; it is vital to choose a provider that has a history of secure processing and operations.  Specific things to look for in
cloud accounting security
are as follows.
Availability/Uptime
Authentication
Security Authentication
Data Center Security
Data Redundancy
Backup of Data
2. Ease of Use/Ease of Transition
If you currently use Excel processes, QuickBooks, or any other form of accounting and financial management software, it is important to know that it is easy to upgrade.  Any downtime spent outside of the training and transitional phase is costing you money. Smart businesses look for a customized solution that supports growth, has various dashboards developed to assist your business, and offer reports on demand.  They also look for a product built to support transition without installation costs, server installation, or thousands of hours of training.
3. Supported Growth
You look to grow your business.  Whether you to add new locations, operate in many countries with different currencies, or even go public; your business has unique needs as you grow.  How can you recognize sustainable growth? Whether you seek prepackaged software for accessibility or software customized for growth, Intacct and its partners have you covered so that you will never outgrow or outwork your current financial management software. The following video shows how Intacct can offer security and manageable growth in your business.
4. Training
One of the most common reasons that companies fear upgrading or selecting a cloud-based solution for growing business is that of the time, effort, and money needed to ramp up and use the software.  To meet the needs of different learning styles, it may be best to request the following
training services
:
On-Site Training
Self-Paced Online Tutorials
Paper/PDF Reading Material
5. Customer Service
If in the unfortunate situation something does go wrong, you need a company that can support you every step of the way.  Certain providers of accounting software will make a completely unannounced change to their software and fail to respond to the requests of the affected businesses.  Generally, it is best to look for the following:
24/7 customer support
Quick response times
Social Support
Update Notifications and Experts to Answer Questions
So what else should your growing business look for in cloud accounting software?  Real-Time Visibility? Integration with CRM or Travel and Expense Account Management Software? Other customized integrations that allow your business to achieve more? Have something to add? Share it in the comment section below.
Still have questions? Contact us.
Altruas is a full-service technology consulting firm focused on providing mid-market and enterprise customers with technology solutions that accelerate their business. We focus on industry leading cloud, ERP and CRM solution implementation and integration. Our strong business acumen and technology capabilities allow us to create long-term relationships with our clients.