Each Year, leading advisor of customer solutions Software Advice conducts a survey of nonprofits to discover the buying tendencies and trends in the market for different types of software.  Where does the Nonprofit Industry Stand?  Who is looking? What solutions have been considered?
We have brought together the top trends and tactics in software selection from this survey, a study of over 2,300 nonprofit decision makers, bringing unparalleled insight into the nonprofit software buying market.
Key Findings from 'Nonprofit Software BuyerView 2014'
What are nonprofits seeking out of software? Where does each stand? What applications do nonprofits seek in evaluation proceedings? The following offers the key insights into the most important findings based on Nonprofit BuyerView 2014:
Most buyers (51 percent) are evaluating nonprofit software to improve efficiency.
Among buyers with a preference, the majority (96 percent) prefer Web-based systems.
Fundraising and donor management is the most requested application by buyers.
Top Reasons for Evaluating New Software
Although there are many reasons that nonprofits evaluate new software, the top reason is improved efficiency.  The following graph lists the trends and reasoning behind software decisions.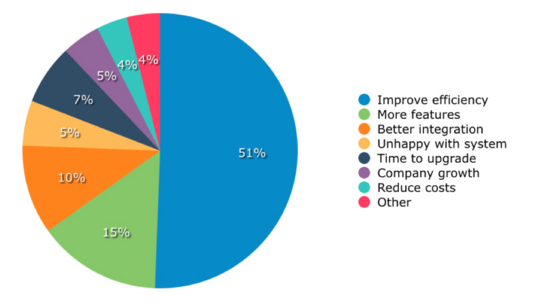 Image Source (http://www.saimgs.com/imglib/other_pages/Nonprofit%20BuyerView/purchasing-reasons.jpg)
Furthermore, almost half (49 percent) of buyers currently use manual recordkeeping methods, such as spreadsheets, pen and paper and Quickbooks to track data. Manual data management and task tracking can be tedious, even for nonprofits with a small number of records to maintain, so it's not surprising that buyers want software to streamline regular business functions.
Related: How Can Companies Save with the Cloud?
Buyers looking to improve efficiency often said things like, "we use 40 spreadsheets and things are getting overwhelming," "we need to streamline our fundraising efforts" and "things get lost easily, so we need to get more organized."
Cloud Based Deployment Leads Nonprofit Preference
Of those with a preference, Web-based applications were requested significantly more often than on premise solutions—96 percent versus 2 percent. This ratio aligns with our findings in other software markets, such as CRM software, where a Web-based deployment model is the leading choice among buyers.
Fundraising Management is the Most Desired Application
Fundraising management was the most-requested application across all buyers (52 percent). A significant majority of buyers evaluating best-of-breed applications sought a fundraising management solution (79 percent), while a smaller, but still substantial number of integrated suite buyers (40 percent) wanted to purchase a fundraising management application.
Nearly a quarter of all nonprofit software buyers requested a nonprofit CRM application to manage constituents. Drilling down further, 33 percent of integrated suite buyers sought a nonprofit CRM application, compared to just 4 percent of best-of-breed buyers.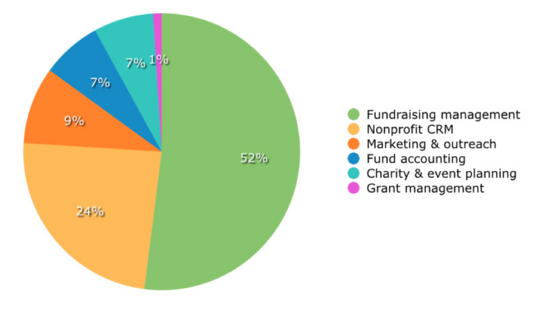 Image Credit (http://www.saimgs.com/imglib/other_pages/Nonprofit%20BuyerView/requested-apps-all.jpg)
What Solution is Right for Nonprofits?
With many buyers seeking best-in-class cloud based solutions for nonprofit financial management, Intacct jumps to mind as the top performer for many nonprofits looking to elevate above manual processes.
Related: TeleManagement Forum Manages Global Finances with Intacct
For nonprofits, Intacct has cloud financial software that can help streamline grant, fund, project, and donor accounting with specialized nonprofit financial management and accounting capabilities. We help you put your financial processes, reporting, and analysis back where they belong — inside your financial management and accounting system.
We are also strong believers in organization taking a best-in-class approach, instead of getting locked into a single-vendor software suite. We partner with other complementary software vendors to ensure our systems work well together. That way you can choose the best-in-class system that fits each area of your organization and rest assured that data will flow between them to keep you productive.
Related: Great Books Nonprofit Case Study
One example of this in the nonprofit space is Intacct's relationship with Orange Leap, a leading developer of cloud-based fundraising and constituent relationship management software. Intacct has teamed up to integrate our best-in-class cloud software to create an integrated solution that automatically syncs financial and donor information and frees you to spend time on mission-specific strategic activities and relationship-building.
Through Intacct and Orange Leap, nonprofits can recognize the following solutions and benefits:
Improve visibility and real-time management of your financials and donors.
Increase productivity and efficiency while reducing data-integrity issues associated with manual reporting and calculation of key performance indicators.
Easily display financial and donor data on Intacct dashboards.
How Can Nonprofits See More Benefit from the Intacct Cloud Solution?
Many nonprofits choose Intacct due to the ease of use, integration with other best in class software, and efficiency previously unrecognized through QuickBooks.  With products and services specifically tailored to nonprofits, making the switch to Intacct just makes sense.
Related: Faith Promise Church Case Study
Altruas, a leading provider of Intacct solutions to nonprofits and others, understands the benefits provided by this industry-leading cloud accounting solution.  If you are ready to improve efficiency and provide unmatched value on investment to your stakeholders, contact us today to learn the Intacct Advantage.